Jung's Birch Lake Cottages
Quiet Comfort in Northern Wisconsin
Thirteen miles south of Minocqua, our three-cottage hideaway rests along the hushed shoreline of Birch Lake. It's a noiseless little place—a summertime retreat to traveling families for nearly 40 years. We hope you'll make a stay at Jung's Birch Lake Cottages a part of your family's tradition.
Stay in one of our side-by-side vintage cottages, Bayside and Lakeview, or enjoy the privacy of Tranquility
Built in 1959, this two-bedroom, one-bathroom cottage overlooks a little bay on the northwest corner of Birch Lake. Bayside sits side-by-side with Lakeview, making the two a perfect pairing for larger families or groups. The interior of the cottage, paneled in natural knotty pine, offers an old stone fireplace that's been retrofitted with gas. Take in the view from large vista windows, enjoy the breeze on the wraparound deck, or walk down to your own private dock.
With an east-to-west view of Birch Lake, this two-bedroom, one-bathroom cottage is a mid-century sanctuary. Knotty pine covers the interior walls, natural light pours through surrounding windows, and a gas-retrofitted brick fireplace keeps things comfortable. Lakeview sits side-by-side with Bayside, making the two a perfect pairing for larger families or groups. Roast marshmallows at the fire pit, barbecue on the charcoal grill, or go fishing on your own private dock.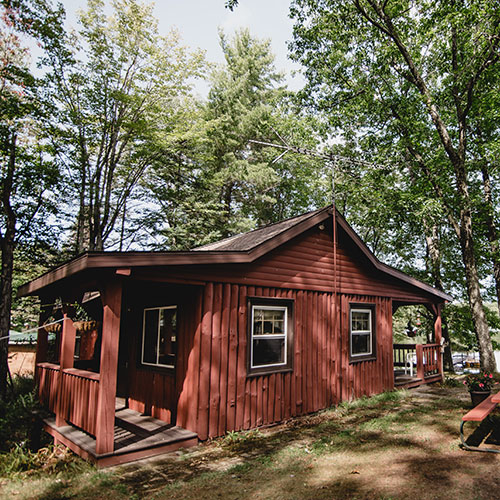 Taking its name from the serene natural setting in which it rests, Tranquility is situated at the southern end of Birch Lake on its own private lot. With two bedrooms and a full-sized bathroom, this charming little cottage affords privacy and intimacy for couples and small families. Paddle around the picturesque shoreline in the provided kayaks, enjoy company and conversation around the campfire, and witness sunrises and sunsets from your own private dock.
Offered from May through October, our vintage rental cottages are well suited for young families, empty nesters, and solo travelers alike. Anglers, backpackers, and bird-watchers are drawn to the natural beauty of the woods and water, while Minocqua and its attractions are just a short drive away.
Gather with your friends and family in the great outdoors
Our cottages are located on Birch Lake in Harshaw, Wisconsin. Surrounded by towering maple, oak, and pine trees, this 198-acre lake is a perfect destination for outdoor recreation, including fishing, boating, and water skiing.
Rent a cottage for a week, make memories for a lifetime
With weekly rates ranging from $895 to $995 per week plus tax, all three of our cottages are equipped with fully furnished kitchens, bedding and linens, and charcoal grills and fire pits. And now, we also provide free wireless internet.
Enjoy boats, kayaks, grills, and fire pits—no extra charge
Enjoy complimentary use of our row boats, pedal boats, kayaks, and canoes. Guests are also invited to use our private boat landing and take advantage of unrestricted water access from each cottage's own private dock.
"We love coming up here—it is always a constant. No matter what happens the rest of the year, this place is tradition. It feels more like coming home every summer."

The Rulseh Family

Returning Guests
"We have been coming here for 10 years. Canoeing, walking the Bearskin, watching the stars, peace and quiet, and someone special to share it all with. Who could ask for anything else?"

The Makarzyk Family

Returning Guests
"Thank you for a wonderful relaxing stay. Your cabin offered us all the comforts of home in a beautiful yet rustic setting. The leaves were just gorgeous in all their golden and red colors."

The Pritchard Family

Returning Guests